With the ability to overcome impressive terrain, the Ford Ranger Raptor will become an effective means of assistance in the pursuit of criminals not only on smooth roads but also difficult terrain.
The Ranger Raptor is probably not the most suitable vehicle to chase criminals with a maximum speed of approximately 170 km / h but in a campaign conducted in difficult terrain, this is the British police's great machine. to conquer challenges even when operating at low speeds thanks to Fox shock or Baja driving mode.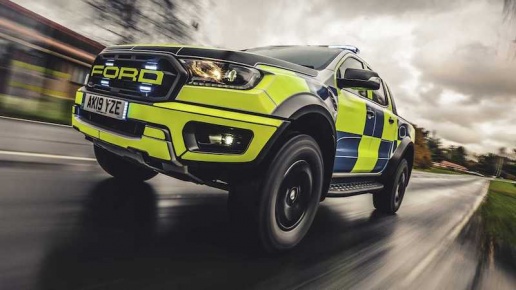 So far, countries in the world have chosen sports cars as well as high-speed supercars to chase high-speed criminals so familiar. But what happens when criminals leave flat asphalt? To find a solution to this problem, the British police has just tested the addition of Ford Ranger Raptor pickup lines to its official vehicle force.
Improved by the special vehicle branch of Ford located in Essex, impressed with the yellow-blue 'outfit' worn on the body, the Ranger Raptor was only added with specialized flashing lights on the exterior and interconnection devices. Touch dedicated to police inside the cabin.
Powering the police Ranger Raptor continues to be a 2.0l EcoBlue inline 4-cylinder turbocharged 213PS / 500Nm engine paired with a new 10-speed automatic transmission, driving 4 × 4 bridges. With a FOX suspension and a dedicated Baja steering mode, the car has more than enough capacity to chase criminals head-on mud, dirt or sand while escaping.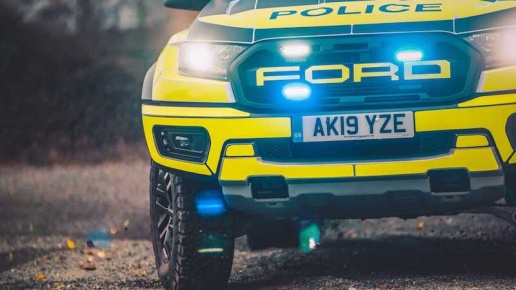 Currently, the first Ranger Raptors have been taken to police forces in South Wales to reach the remotest regions in the United Kingdom.
If in the case the Ranger Raptor's top speed of 170km/h is not enough to pursue the asphalt, the criminals do not rush to celebrate. Because in addition to super-pickup Raptor, British police also use high-performance Ford Focus STs to assist.
Ford Focus ST is also branching out the specialized vehicle, Ford Special Vehicle Preparation, with hardware and software to support police work such as ceiling and radiator warning lights, radios, or body protection kit.